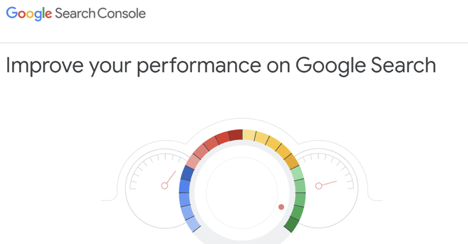 Google Search Console is a highly-advanced toolset that lies at the forefront of Search Engine Optimization. It plays a critical role in helping SEO professionals analyze website visitors and improve Search Engine Results Pages (SERP) ranking and visibility.
The tool tells users which pages people search when they open a website, how much web traffic a website is receiving, the device, and platform people use to find a website, and most importantly, what makes a website successful.
Google Search Console is a fundamental tool for every successful SEO professional. Learning how to get registered on this platform helps website owners begin a data-driven approach to digital marketing. In this brief guide, we will discuss how to get registered with Google Console.
What Is Google Search Console (GSC)?
Google Search Console is a free web toolset offered by Google for analyzing, maintaining, and improving a website's presence in SERPs. Of course, you don't need the Search Console for appearing in Google Search results. Being familiar with the Google Search Console helps users understand how Google perceives its website.
What Does Google Search Console Do?
GSC is a complete web toolset and offers a collection of features. You can use the tool for the following activities:
Ensure that Google locates and crawls your website.
Process re-indexing requests and resolve indexing problems for new and updated content.
Analyze search traffic data for websites to find out how frequently a website shows up in Google Search. It shows which search queries include your website, how often do visitors are lead to your website from those queries.
Detect issues such as spam, indexing, or other black hat problems on a site.
Display the websites that link to a particular site.
Troubleshoot mobile usability, AMP problems, and other search features.
Review security issues, manual site actions, and more
Discover which websites link to yours
Check which searches or search results include your website
View which search results drive traffic to your site
How to Get Registered with Google Search Console
Getting started with Google Search Console is fairly easy. Just follow the five steps below to optimize your website for better performance.
Login to Google Search Console
Start by logging into the Google Search Console platform and use it for your business.
If you are already logged in with a Google or Gmail account, then Google will log you in automatically. Depending on how you operate your business, you may want multiple users to access information related to your website in Google Search Console.
Adding new team members is possible as the number of website owners grows. You may also set different permission levels for various users according to their role, experience, or requirement.
Select Your Property Type
After that, you must select the property type for your website. Choose either of the two following options:
URL Prefix
The URL prefix property type only includes URLs under selective protocols and addresses. Therefore, if you enter, "https://www.abcd123.com" as your URL, Google Search Console will not match "http://www.abcd123.com" or "abcd123.com" to that URL.
Using the URL prefix property type, allows users to verify their ownership through three different ways:
Using your Google Tag Manager container snippet or Google Analytics tracking code
Adding an HTML tag to a specific page
Uploading an HTML file to the site
You can choose a specific URL prefix property depending on your business's digital marketing strategy since it enables you to monitor and track various segments of your website. For instance, if you made a separate site for your mobile traffic, it will allow you to monitor its performance separately.
Domain
The domain property type includes HTTPS and its less secure version of the HTTP protocol, as well as, all related subdomains, such as "www." It's the most convenient property type and recognizes multiple versions of your website.
For instance, Google Search Console will see the following URLs as matching with the domain property type:
http://abcd123.com/business/home
https://abcd123.com/business/home
http://www.abcd123.com/business/home
http://support.m.abcd123.com/business/home
If you choose the domain property type for your website, it's necessary to confirm ownership with a DNS record.
Verify Your Property
After you choose your property type and provide your URL, you need to verify website ownership. The verification method you choose can vary based on your website's property type:
| | |
| --- | --- |
| Property Type | Verification Method |
| URL prefix | HTML file Upload a particular HTML file to your website |
| URL prefix | HTML tag Insert an HTML tag to a certain page |
| URL prefix, Domain | DNS record Add a DNS record via a domain provider account |
| URL prefix | Google Analytics tracking code Submit Google Analytics tracking code |
| URL prefix | Google Tag Manager container snippet Provide a Google Tag Manager container snippet code |
| URL prefix | Google Sites Create a Google Site with a Google account for Google Search Console |
| URL prefix | Blogger Launch a Blogger site, using a Google account for Google Search Console |
If you experience any errors during the verification of site ownership, you can reference Google's troubleshooting guide . However, you must keep your verification method valid and active. For instance, if you add an HTML tag or DNS record, it isn't possible to remove that tag or delete that record after receiving the verification. Google will periodically assess your verification method, so it's important to keep that information accessible.
View Your Property
Once your property ownership is verified, you can start using Google Search Console. In case your company adds more than one properties, GCS allows you to move between properties using the following steps:
Click the hamburger menu on the left-hand side
Select the drop-down menu next to your website URL
Choose your property
Google Search Console starts collecting data as soon as you add a property to your website, instead of waiting for the verification to complete. Therefore, your property may already have some data available based on how long it took for verification to complete. If the Console doesn't contain any data, then you should explore the platform more to access more data.
Access Your Reports
The Google Search Console platform offers its users a wide variety of features and reports. The following are the ones most used by website owners:
Overview
The overview gives site owners a quick summary of a website or its property. The Overview report will include total website clicks, indexed pages, manual actions, and other important engagement metrics. The summarized information makes it an excellent tool for detecting major issues quickly and monitoring the website's overall performance.
URL Inspection
URL inspection shows how Google perceives your website and certain pages associated with your URL Inspection report. Using this report, you can check whether Google's crawled and indexed a page or not. The inspection also allows you to detect mobile usability, JavaScript, and HTML errors, helping your development team improve the website.
Performance
The Performance report provides an in-depth review of your website. It will uncover the total number of your website's clicks, impressions, the position in search results, as well as the average click-through rate (CTR). The report also highlights devices, locations, and user queries connected to your website.
Besides the following three important reports mentioned above, Google Search Console lets you access the following reports:
| | |
| --- | --- |
| Google Console Report | Description |
| Coverage | Coverage report verifies the index status of the website and associated pages. |
| Sitemaps | Allows users to submit and review uploaded sitemaps and related sitemap errors. |
| Mobile Usability | Allows users to evaluate the mobile-friendliness of indexed pages |
| AMP | Shows which AMP pages Google does and doesn't index. |
| Rich Result Status | Identify rich results on your pages that can be crawled, as well as the ones that can't be. |
| Manual Actions | Acquire a summary of manual actions against potential fixes and your website. |
| Security Issues | Evaluate security issues on the page or your website. |
| Links | Allows users to view links to their website, specific pages, and link anchor texts. |
With various reports available, Google Search Console allows you to export and compile data outside its platform.
Why Do We Need Google Search Console?
Every website owner needs Google Search Console to ensure the maximum performance of his or her website. As soon as you are familiar with the SEO basics and Google Search features, you can benefit from this platform directly.
The platform helps SEO professionals monitor the ranking of websites, optimize them, and make informed decisions regarding the search engine structure of your site.
Google Search Console also helps website administrators for monitoring and resolving site loading problems, server issues, and dangerous security risks such as malware. At the same time, the platform is helpful for web developers as they develop website code. It helps them discover and resolve data structure problems and markup/code issues.
That said, the benefits of usingGoogle Search Console mostly relate to Search Engine Optimization. The platform plays a crucial role in letting users understand the number of clicks, search engine visibility, impressions, as well as results from Google searches.
The number of clicks and impressions obtained from Google impacts how many web links users open during Google searches. Google Search Console is one of the ideal ways to make that an SEO campaign is performing well.
By analyzing your website similar to how Google does with bots, website owners can learn intrinsic details about their website performance. Not only does GCS help them understand their website's indexing, but it also improves its ranking and identify the most popular keywords, etc.
In the end, Google Search Console serves as a universal station for users of varied experience, technical understanding, and skillset. Therefore, whether you're a web developer, business owner, or SEO specialist, Google Search Console provides substantial value.
Frequently Asked Questions about Google Search Console
How can beginners start with Google Search Console?
Once you register with Google Search Console, you can start using the platform by using the following actions:
Confirm page crawling and indexing
Slow page speed, mobile display issues, spot errors, such as incorrect structured data, and more
Identify queries that drive traffic to a page
Track page appearances and positions in different search results
Track for site security issues
Compare page performance over time
People with a basic understanding of SEO metrics can also begin with detailed reports such as Overview, Performance, and URL inspection.
How often must you log in to Google Search Console?
The frequency of log-ins to Google Search Console can vary depending on your need. Although you can check on your GCS once every day, that is not what Google recommends. For most users, it's ideal to log and check progress at least once every month. If you are an active digital marketer then you may have to adopt a more proactive approach and check every week.
What Makes Google Search Console different from Google Analytics?
Both Google Analytics and Google Search Console provide critical and valuable insight into your business by informing you about your website. GCS is sometimes seen as a smaller component of Google Analytics since Google Analytics provides access to it through its panel.
However, the way both platforms view data makes them inherently different from each other. Google Search Console monitors and tracks what happens before a user reaches or engages with your website, whereas Google Analytics evaluates their behavior after they arrive on a website. Google Analytics shows how users interact with the website and Google Search Console illustrates how search engines impact your website.
What time does Google Search Console take to index a site?
If you allow Google to crawl and index your website using Google Search Console, it takes anywhere between a few days to a few weeks for completing the process. However, the speed of this process will not increase if you resubmit the URL multiple times.
Final Words
Google Search Console serves as a highly robust control center, communication center, performance dashboard, and a data source for website owners. It assists users by providing them useful insights regarding their website, as well as their digital marketing campaigns.
The platform's ability to highlight your website's performance in search results and providing critical metrics such as mobile usability reports, visibility, clickthrough tracking, etc, make it a must for every website.